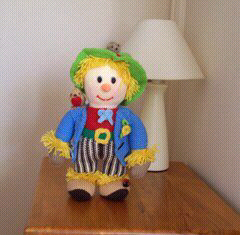 Sam's my favourite!
Many knitters are familiar with Jean Greenhowe's delightful patterns for knitted toys. You can knit them from oddments of left-over projects or from the original colours shown in the pattern.
These are so popular at fairs. Always be sure to read the copyright rules when you knit using commercial patterns. I have visited Jean Greenhowe's website and I recommend that you do too! You won't be disappointed and there's free stuff as well!
Mr. Fixit
The Town Crier
Alf
I have found that the original colours produce a really professional finish. I took great care in matching my colours to Jean Greenhowe's patterns.